Details
Pay only $999 for the Janome MBX version digitizer program
Save $600
This is a very limited offer so don't wait
The New Janome Digitizer MBX version 4.0 is now available from sewingmachines.com.au .
Part number 254-745-100
Normally pay only $1599- Contact our friendly team on 1300 137 041
$999 offer ends soon
New features:
25 New Alphabets, now 100 in total.
700 Clip art designs,
20 new Jan files highlighting the new features.
On screen Project based workbook
Improved Monogram Tool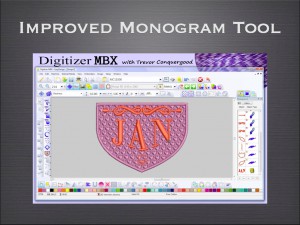 The monogram tool has been has been greatly improved. When you start a new monogram object a window opens up opens where you can control the lettering, choose a style, font and size. Then you can add ornaments from the provided sets of motifs or from your own embroidery designs. You can also create a border with fill and or an outline.
New Ambiance Quilting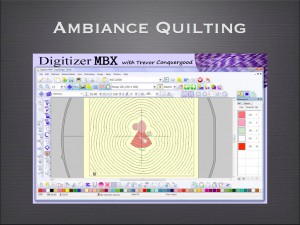 With ambiance quilting you can easily create new and interesting quilt blocks. You set the size of the block you want to make and then choose from several styles of quilting like stipple, scroll or echo. Once you use the tool several new run line objects are created and you can then convert them to have any type of stitch like backstitch or candlewick run line.
New Stitch Types – Cross Stitch & Stipple Fill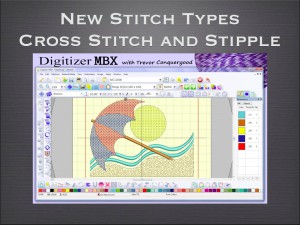 There are two new stitch types that have been added in version 4. One is cross stitch and the other is stipple fill. Open a design and see how you can easily convert parts of the design into cross stitch and other parts into stipple fill.
Improved Colour Matching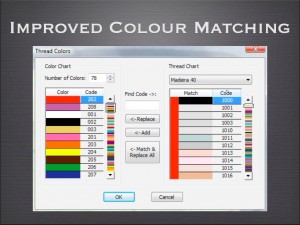 The colour matching tool has been improved in version 4. You can choose from dozens of brands of embroidery thread and then have that thread be matched to the thread of your design. Save your custom thread chart as a template so you can use it again without needing to re do the setup of the colour chart.
New Expanded Tool Tips

In version 4 when you hold your mouse over a tool and wait for a moment you will see an expanded tool tip. You can use the tool tip to link to that tool in the on screen manual that is included with the software. There are also new expanded rotate and skew tool tips.
New Easy Switch Measurement System

New in version 4 is the ability to easily change from metric to imperial measurement system. You can actually use both systems at the same time. If you are using metric but type in a number with the " for inches after the software will automatically convert that number to metric.
.
Improved Applique Tool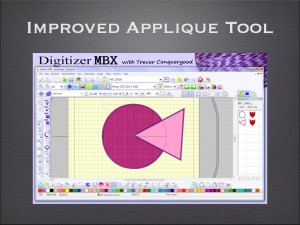 The applique tool has been improved in version 4. You now have the ability to display applique fabric that is pre loaded or you can create custom fabric to use on your shapes. Also in new version 4 is the ability to remove the satin stitch border where two appliques overlap.
New Duplicate with Offset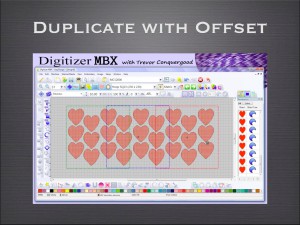 New in version 4 is the ability to duplicate with an offset. When you right click and drag you will make a duplicate of an object. If you use the duplicate tool you will continue to get new objects at an equal space from the previous object based on the offset.
Improved Lettering Art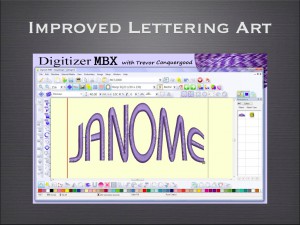 The lettering art tool has been improved in version 4. You now have the ability to apply more than one type of lettering art on the same object. Then you can remove one layer of the lettering art or remove all lettering art if you want to try again.
Improved Auto Digitizing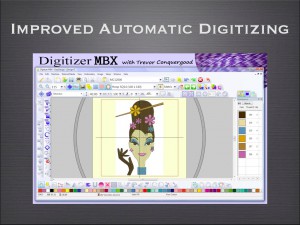 IN version 4 the automatic digitizing tool has been improved to have even more control over the process. Shows you how to choose what colour will be a fill or detail and how that relates to the finished design. Includes the improved fill hole and remove overlap tool.
Improved Object Recognition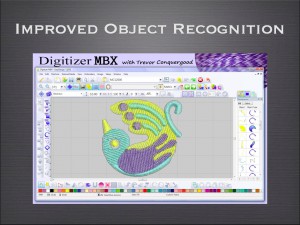 The ability to open a stitch file such as .jef or .dst and then make edits to the design is possible because of a special ability called object recognition. The software reads the stitches of a design and then creates objects based on it's understanding of the patterns. In version 4 the object recognition has been improved .
New Always Trim Tool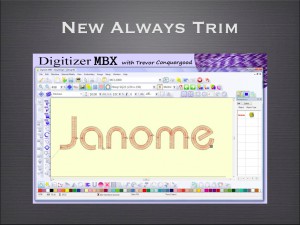 New in version 4 is the ability to ensure a thread trim will happen in your design. There is a new tool called trim always and you can use this to force the software to include jumps to create a thread trim in the design. You can use this tool on objects you create and also lettering objects.
Improved Outlines and Offsets Tool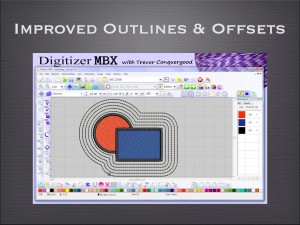 You can add outlines or offsets to your objects with this improved tool. You can choose the type of stitch for the outline and separate control for the offset. Also new is the ability to choose from individual outlines or a welded object around the common shape.
New Branching and Break Apart Tool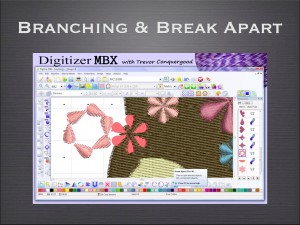 With the break apart tool you can separate the individual parts of a group of objects that have been grouped together with branching. Objects that are branched together will be connected with a common start and end point and the software will plan the connecting stitches to path the objects together.
New Closed Line Tool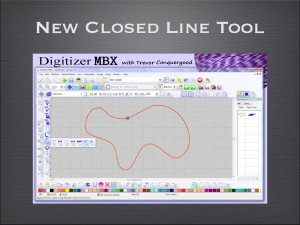 New in version 4 is the closed line tool for both run line and satin border. This tool works the same as the original open run line tool except that the same is automatically closed when you press enter.
Improved Radial Fill Tool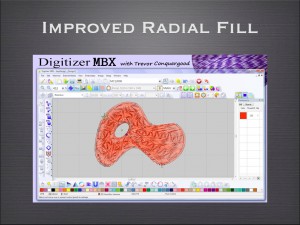 Radial fill has been improved in version 4 to make it much easier to reshape or move the center of the radius. Now you can not only move the point but you can adjust the size of the radius and shape. The object is edited like it was a parallel and not like a turning angle fill as it was in version 3.
New Splitting Guide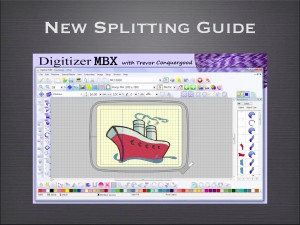 The new splitting guide tool give you the ability to choose where large objects will be split when you are multi hooping or using the Giga or Macro hoop. The new tool will split lettering, run line or fill objects.
New Corel Draw Essentials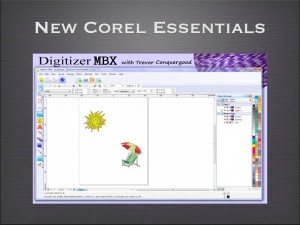 I
n version 4 Digitizer includes the ability to use vectors with the Corel Draw option. You can switch between Corel and Digitizer software and easily create embroidery from vectors. You can also do the opposite and convert embroidery to be a vector. See the tools available when using Corel graphics mode with Digitizer software.
New DVD video guide for MBX is in the box – starts at 1:56:30 of the video
Trevor has prepared a new training DVD for all of the tools and features of Digitizer MBX (version 4). The great news is the Training DVD will now come in the box when you purchase the full program or the upgrade from V3 to V4. Trevor also offers on going classes for users of Digitizer software an you are invited to attend a class to learn more.
Members of Digitizer Workshop were sent the link to download this file, DW10-DigiTalk_new_in_v4.zip on September 23rd, 2011. The recording will also be included on the Digitizer Workshop 10 DVD.
This entry was posted in
Digitizer Workshop
,
Digitizer Workshop 10
,
Janome DVD's
and tagged
Ambiance Quilting
,
Applique
,
Auto Digitizing
,
Branching
,
Corel Draw
,
cross stitch
,
DigiTalk
,
Duplicate
,
Janome
,
Janome Digitizer
,
Lettering Art
,
monogram tool
,
Object Recognition
,
Outlines and offsets
,
Splitting Guide
,
Trims
. Bookmark the
permalink
.