Details
This machine would make my Valentine week complete
<>
ring us on 1300137041 and save $3000 off the RPP. note offer is till we meet our budget so act quickly.
Offer starts 5 February 2016
free delivery for any sewing machine or overlocker over $300 Australia wide
Note this offer is for the new model Janome MB4-s
It superceeds the old MB4
receive this Mat as part of a bonus when you buy this magnificent MB4-s sewing machine
Note feet are optional extras
<>
Overview
Everything you love about Janome embroidery machine has been and quadrupled! With this semi-industrial four needle machine, you can set up your embroidery and move on to other projects while the MB-4 gets it done. The MB-4 is built to work with most embroidery formats, including those used by industry professionals. It is compatible with six industry-standard Tajima hoops, as well as the four available Janome hoops to further expand your creative opportunities.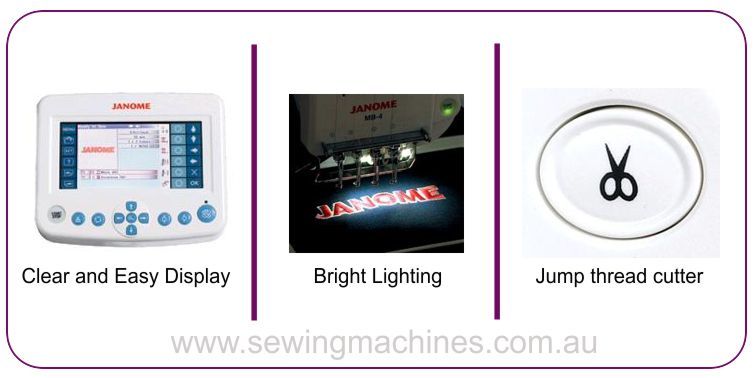 Features
• Auto thread cutter
• USB memory key compatible
• ATA PC card port
• Compatible with Janome software
• Embroidery speed up to 650spm
• Built-in designs: 100
• Fonts: 3
• Monogramming: 2 & 3 letter
• Expanded built-in memory
• Change colors to favorite thread: Janome, Robison-Anton, Madeira, Mettler
• Drag & Drop editing for easy placement
• Embroidery design resize 90% - 110% by 1%
• Rotate in 1 and 45 degree increments
• Flip vertically and horizontally
• Standard hoops: Large 5.5" x 7.9" (140mm x 200mm) and Standard 5" x 4.3" (126mm x 110mm)
• Embroidery area tracing
• MY SET screen controls for contrast, in/cm, designation, and other customization
• Zoom in and out
• Multi-language selection
• Stitch-out time indicator
• Stitch counter
• Upper thread and presser foot sensors
• Manual thread tension control
• Ball bearing precision
Standard Accessories
• Lint Brush - Use it to brush away lint.
• Accessory Box
• Bobbins
• Felt Ring (large)
• Felt Ring (small)
• Hoop M1 (240 x 200)
• Hoop M2 (126 x 110)
• Hoop M3 (50 x 50)
• Hoop Supporter
• Instruction Book
• Instructional CD-ROM
• Needle (DB x K5Q1-NY)
• Needle Threader
• Offset Screwdriver
• Oiler
• Power Supply Cable
• Scissors
• Screwdriver (large)
• Screwdriver (small)
• Seam Ripper
• Setscrew
• Spool Caps
• Spool Net
• Spool Pin
• Spool Rest
• Spool Stand
• Thread Guide Bar
• Thread Guide Pole
• Tweezers
Specifications
• Single Hear 4-Needle Embroidery Machine
• DB Rotary Hook (Full Rotary)
• Number of Needles: 4
• Type of Needles: DBxK5Q1NY #11
• Cylinder Shape of Bed
• Skeleton (Clam Shell) Body Construction
• Machine Size: W365 x H640/(440*) x D520 mm
• Bed Width: W299 x H130 mm
• Machine Weight: 20.5 kg
• Packing Size: W450 x H620 x D660 mm (*1)
• Gross Weight (incl. Packing): 29 kgs (*1)
• DC Motor
• Max. Speed: 800 spm
• Low Range Speed: Up to 400 spm
• Bobbin Winding Speed: 2,000 rpm
• Machine Control: By RCS (option) or Sub-Control Panel
• Sub-Control Panel: LCD with Back-Light (H12xW63mm)
• Mode Key (*2)
• OK Key
• 4 Jog-Keys
• Forward/Reverse Stitch Keys
• Forward/Reverse Stitch Keys
• Lay-in Thread Tension (Manual Adjustment)
• Independent Bobbin Winding (with Independent Start Button)
• Built-in Auto Thread Cutter (needle & bobbin threads)
• Upper Thread Holder Spring on the Face Plate
• Thread Cutter for Bobbin Winding
• Direct PC-Link
• Embroidery Format Compatibility: jef+/jef (Janome) & DSL (Tajima)
• Resumption Setting/My Set (with RCS)
free delivery for any item over $300 Australia wide
Hurry only one left at this special price
This is an huge offer
Save heaps if you buy on the internet or call us on 1300137041 Floor model
You may also be interested in the following product(s)