Optional Embroidery Software Addons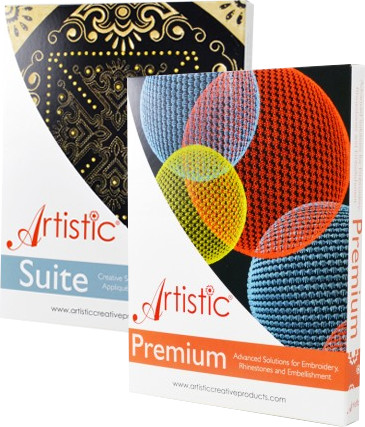 Janome Artistic Suite V7 Software
Artistic Suite Version 7 contains a wide variety of amazing features and functionality, including cutwork, true type font conversion, applique, fabric cutting, decorative stitches, and heat transfer. It also contains a revolutionary rhinestone application. Rhinestones in a variety of sizes can now be added to sewing and crafting projects like never before. Any shape, including logos, clip art, or imported graphics, can be easily designed for rhinestones. The software then sends the design to a digital cutter for template creation. You'll also find a powerful monogram feature - insert 3 characters for monogramming, freely edit monogram shapes with a Node Editor, and create a monogram from any True Type font.
Features and Benefits
Stitch TrueType fonts and Greek lettering
3,500 built-in designs
Digitize and edit new embroidery designs, or turn your graphic files into stitches
Design and cut shapes for applique and quilting with your embroidery machine
Graphic-based program uses a wide variety of file types
Create custom rhinestone designs for ready-to-wear items, craft, and sewing projects
Use with automated quilting programs such as QuiltMotion
Great for small sewing and craft business
Easy versatility - use in conjunction with other software programs
Use with virtually any brand or style of embroidery machine
Janome Artistic Premium
For the confident Digitizer, Artistic Premium is the most comprehensive software in the Artistic line. It has all the great features found in our other software like compatibility with digital cutters, advanced monogramming, and thousands of built-in designs to get you started. However, Premium also contains the power to do color blending and gradient affects, an Envelope feature that allows you to create 3-D effects, and more. If you are serious about your embroidery, this is the program for you. This program is an additional purchase to Artistic Suite. Artistic Suite includes modules for Basic features, Editing Designs, and Venere. Artistic Premium takes these same modules and adds a Digitizer module, Artistic Digitizer Module where you can add 3-D effects and curves to your embroidery, Text module, and Node Editing. There's so much you can do to make your next embroidery project Premium.
Features and Benefits
Stitch TrueType fonts and Greek lettering
3,500 built-in designs
Digitize and edit new embroidery designs, or turn your graphic files into stitches
Design and cut shapes for applique and quilting with your embroidery machine
Graphic-based program uses a wide variety of file types Create custom rhinestone designs for ready-to-wear items, craft, and sewing projects
Use with automated quilting programs such as QuiltMotion
Great for small sewing and craft business
Easy versatility - use in conjunction with other software programs
Use with virtually any brand or style of embroidery machine
Compatible with KNK Zing, Silhouette Cameo, and Brother Scan N Cut Digital Cutters